For the Medicine degree programme, we have purchased the e-books from the mandatory list of study books as much as possible. Some titles of this list, which are not available digitally, are freely accessible as printed copies in the book wall of the Education Center.
The e-books are available as HTML or PDF in your browser by IP address.
The e-books are available outside Erasmus MC after you have logged in. More information about this can be found here.
Searching for a specific title in the in the catalog/sEURch
Typ (part of) the title in the the catalog/sEURch.
You can opt for in title
Press enter or click magnifying glass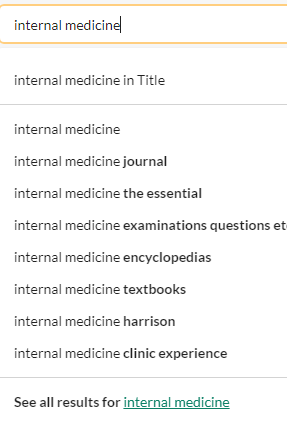 When we own the e-book, it will be at the top. If the title of the e-book is too general, you can refine it further.
Refine on the left on Held By Library and tick Erasmus University Rotterdam. This way you will only see the results that are available to us.
Change Sort By from Library to Date (newest first).

When you sort by Library, the results are sorted by how often a book is present at a library. This allows older books to appear at the top and the newer versions to the bottom.

When you sort by Recent, the books that were recently added to a collection are listed at the top. These do not have to be the most recent releases.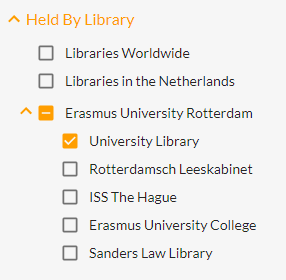 Refine on the left on Format and tick eBook.