Bibliometrics & citation analysis
How often am I cited?
Go to Web of Science and click on Cited Reference Search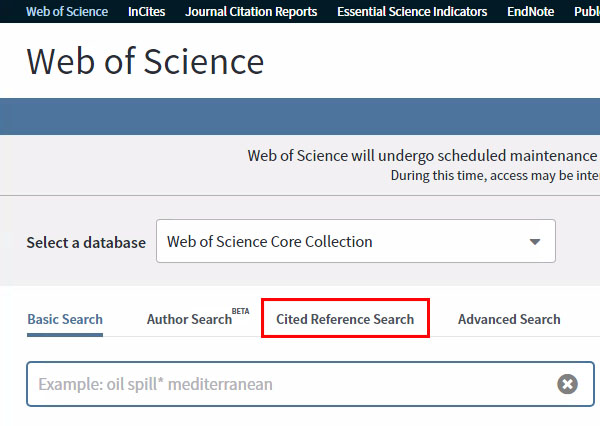 How do I calculate my h-index?

The Hirsch index or h–index is a domain-dependent index that measures the "career impact" of the publications of a scientific researcher. The h–index was defined in 2005 by physicist Jorge E. Hirsch in an article in PNAS.
An instruction to calculate your h-index can be found here.
How to increase my citation score?
State names unambiguously. Then you are easier to find.

Always include Erasmus MC in the affiliation.
Use one standardized name for the research group or institute.
Use a maximum of 2 layers for the attribution; the name of the university and the name of the research institute.
Use one unambiguous author name. Always use the same initials.
For more information see: Affiliation en Author Name and ID.


Publish in English in quality magazines with high impact factors. The impact factors can be found in the Journal Citation Reports (JCR).

Choose to publish in journals that are indexed in Web of Science or Scopus.

Publish in open access journals, which are included in databases such as Springer Open Choice, BMC (BioMed Central), PLoS. This has a major effect on visibility and thus global participation in science.

Seek international cooperation. This increases the impact of publications. This increases the visibility of research.

Make yourself visible by posting information publicly on the internet.

Place pre- and post prints in open access (preferably via the repository of Erasmus MC and EUR: RePub).
Use Wikipedia.
Blog about your research.
Use ResearchGate.
Why doesn't my journal have an impact factor?
Impact factors or quartile scores are not available for some journals. That may be because the journal is not included in the list of Journal Citation Reports (JCR). It may also be that the journal is new. A score can only be calculated once the journal has been in existence for a number of years.
What is the difference between impact factors and quartile scores from JCR and Scimago?
Both organizations calculate a journal ranking and a quartile score, but in a slightly different way and using a different source. The rankings are not directly comparable.
The "Impact Factors" en "Quartile" of JCR (www.jcr.clarivate.com) is calculated by Clarivate using Web of Science Core Collection as the source.
Scimago (https://www.scimagojr.com/journalrank.php) calculates "Scimage Journal Rank" (SJR) and "Quartile" using Scopus (Elsevier) as the source.
Why are recent impact factors and quartile scores not available?
The calculation of impact factors and quartile scores requires data from entire calendar years. Impact factors and quartile scores for this year are not yet available. Last year's scores will not be available until about June of this year.
EndNote
Empty library when cooperating
If you cooperate with other researchers from outside Erasmus MC or have installed EndNote locally on your home device you might find that libraries that you receive as .enlx files in your Erasmus MC environment are empty.

This is caused by a recent update of EndNote (version X9.3.2 to X9.3.3). Forced by changes in the newest Mac IOS, EndNote switched to a 64-bits application. A file created or saved in a 64-bits application cannot be opened in a 32-bits environment and will appear empty. After an update all existing EndNote libraries that are opened will be converted into a 64-bit file with –converted behind the file name, while the old 32-bits libraries still continue to exist. It is because of this that we have not yet updated to the newest EndNote version.

A new version of EndNote will become available during Spring 2021: EndNote 20 (X9 is actually version 19). This will include an important update of features and a major interface change, which will ask for more extensive guidance and documentation from the Medical Library. It is then that  we will switch to a 64-bits version.
If, in the meantime, you receive an EndNote file from someone with EndNote X9.3.3, ask them to export the contents of their library as a .ris file. Please follow the steps below. When you have received the .ris file, you can import them in your own 32-bit EndNote library.
Exporting a .ris file from the 64-bits EndNote installation
Select the references you want to export, and go to File > Export.
Manually change the extension in the file name field from .txt to .ris (you don't have to change the "Save as" drop-down menu).
In the Output Style drop-down menu select RefMan (RIS) Export. If you don't see this option in the list, click on "Select another style…" and select that option from that list first.
Now click Save and send the file to the desired recipient with a 32-bits version.
Opening a .ris file on a 32-bits EndNote installation
First open an existing library or create a new library in which you want to import the references sent to you.
Now open the .ris file directly from your e-mail or from Windows Explorer. The contents will be imported automatically in your current EndNote file.
For questions, contact the Medical Library: info.mb@erasmusmc.nl
How to install EndNote on my own computer?
You can install EndNote on a computer in the Erasmus MC via the Software Center:
Press the Windows key
Search on Software Center
In the Software Center, find and click EndNote
To use EndNote at home you can use the My Erasmus MC Workstation application. EndNote is installed on it by default. Files that you create or open with EndNote are located on your Erasmus MC computer.
To open or edit EndNote files on your own computer or laptop, you can download EndNote via the intranet: Go to this link on the Service Portal and click on the appropriate link to download either the Windows or the Mac-version of the software.
You must then email the file in question to your home address via Surf filesender and open it on your own computer.
Tips for using EndNote for (Systematic) Reviews

The EndNote program can do much more than just compile a bibliography for an article. Especially with systematic reviews it can be very useful to do this in EndNote.

You can easily use EndNote to assess articles for inclusion in a (Systematic) Review. You create groups for this and drag the articles from the Unfiled folder to the relevant group.
The employees of the Medical Library of the Erasmus MC have written an article about this in JMLA. Herein the procedure is explained step by step:  Reviewing retrieved references for inclusion in systematic reviews using EndNote
What is the best way to store my files (e.g. to use them at home and at work)?
One file for all articles

It is most convenient to keep one large file for all articles that you publish. This will contain all references that you have used and PDFs that you have read. This way you never have to search long for a reference.
Two parts: *.enl and *.data
An EndNote file always consists of two parts, a file * .enl and a folder * .data. The two should always stay together and keep the same name. If you change the name of one, you must also change the other.
No File > Save
EndNote does not have File > Save, only File > Save a Copy. EndNote immediately saves all changes. Only use File > Save a Copy to actually make a copy, for example as a backup.
Save to external hard disk or USB-stick
If you want to work with the same EndNote file at home and at work, it is useful to save it on a portable hard disk or on a USB stick.
Literature search and databases
My search has been updated by the medical library, but the numbers in the EndNote files are no longer correct. How can I get the flow chart of my review correct?
The update process
When updating a previous search, the medical library uses its own method. An article on this method is currently being prepared as part of a larger series of articles on EndNote for Systematic Reviews. It works like this:
All results as they currently come from the databases are downloaded in EndNote and deduplicated. The numbers of results from this action are included in the Word document that is sent to account for the method.

The previous EndNote file is added in its entirety to that new EndNote file. After that, deduplication takes place again, but both duplicates are removed. The EndNote file therefore only contains the articles that were not in the previous EndNote file.
The numbers are different
However, the numbers of the results in the two EndNote files added together are usually not equal to the total number documented in the Word document. That's because articles that were found last time are now no longer found. This can be for several reasons:
An article no longer falls in the relevance ranking that has been used. For example, the first 200 articles from Google Scholar are used regularly. When other relevant articles are found, or Google changes the sorting algorithm, previously found articles can now be placed in a place above 200.
An article is no longer in the database. For example, PubMed as supplied by publisher is searched quite widely (recently this database is no longer used for new publications, because Medline Ovid now also contains Epub ahead of print). An article may now have been included in Medline, and no longer fall within the somewhat stricter search.
The thesaurus terms of an article have been changed. Particularly in embase, keywords are often automatically assigned initially. These will be revised later by specialized employees. Perhaps the automatically added thesaurus terms were irrelevant.
For similar reasons, it may also be the case that the update finds articles that have a publication date before the original search date.
How do you get your flow chart right?
A flow chart of the inclusion/exclusion process is often published in a review article. The numbers thereof can be entered correctly as follows.
# Records screened for relevance is known: this equals the number mentioned in the Word document
# Full articles accessed for eligibility is known: that is the number of articles that were read full text in the previous screening, plus the number of articles that were read full text in this round.
The difference between the to numbers equals # records excluded.
N.B. In the first round of screening for title and abstract, the explicit reasons do not have to be given with the numbers of why articles were excluded. This is only necessary for full text screening.
Which filters can I use in PubMed?
humans
NOT ("animals"[mh] NOT "humans"[mh])
children
("child"[mh] OR "Infant"[mh] OR "Adolescent"[mh] OR "Minors"[mh] OR "Pediatrics"[mh] OR "Child Health Services"[mh] OR "Hospitals, Pediatric"[mh] OR infan*[tiab] OR newborn*[tiab] OR new born*[tiab] OR baby[tiab] OR babies[tiab] OR neonat*[tiab] OR perinat*[tiab] OR postnat*[tiab] OR child[mesh] OR child[tiab] OR child's[tiab] OR childhood*[tiab] OR children*[tiab] OR kid[tiab] OR kids[tiab] OR toddler*[tiab] OR adoles*[tiab] OR teen*[tiab] OR boy*[tiab] OR girl*[tiab] OR minors*[tiab] OR underag*[tiab] OR under age*[tiab] OR under aging[tiab] OR juvenil*[tiab] OR youth*[tiab] OR kindergar*[tiab] OR puber*[tiab] OR pubescen*[tiab] OR prepubescen*[tiab] OR prepuberty*[tiab] OR pediatric*[tiab] OR peadiatric*[tiab] OR schoolchild*[tiab] OR preschool*[tiab] OR highschool*[tiab] OR suckling*[tiab])
RCTs (randomized controlled trial [pt] OR controlled clinical trial [pt] OR randomized [tiab] OR placebo [tiab] OR drug therapy [sh] OR randomly [tiab] OR trial [tiab] OR groups [tiab])
Online library
How do I access the available online content: journal articles, e-books and databases?
If we have purchased a subscription to the content, you can access the online content in the following ways:

1. Via a desktop PC a Erasmus MC or EUR.
2. Log in to the wireless network within Erasmus MC:
* Employees: use your Erasmus MC account (with microsection number and password).
* Students: use Eduroam (questions and/or problems EduRoam: contact the ICT department) or Hotspot and then log in via the EZproxy-server.
3. Use MyWorkstation ( MijnWerkplek) of the Erasmus MC. (More information on the Erasmus MC intranet).
4. Log in via the proxyserver (SURFconext):
* Employees: use your Erasmus MC account (microsection number and password).
* Students: use Erasmus Universeit Rotterdam and log in with your ERNA-account.
People without microsection number or ERNA ID (i.e. who do not work or study at Erasmus MC) cannot use the online content within Erasmus MC. For this you can go to the University Library of the EUR.
Can I borrow books from the University Library, ISS or Rotterdamsch Leeskabinet?
As of December 2017, the Medical Library no longer has a physical collection. You can search for e-books in the online Catalog (click hier to search for e-books via the catalog or click hier for an overview of topics)
Erasmus MC / EUR students can borrow books with their EUR student card from the University Library, Rotterdamsch Leeskabinet or ISS. For more information, see the University Library website.
Erasmus MC employees can borrow books from the University Library, Rotterdamsch Leeskabinet or ISS after they have requested a library card from the University Library.
Why can't I access an e-book?
From a PC in the Erasmus MC
1. We have not purchased the e-book. All our e-books are in the online catalog. When we have access, you will see this:

If we should have access according to the catalog, you can send an e-mail to the Acquisition department (acquisitie.mbib@erasmusmc.nl) with the title of the e-book.
2. The e-book does not load in the browser. Especially books at EBSCOhost do not always load properly in Internet Explorer. In this case, you can use another browser (Firefox, Chrome).
From another workplace/laptop
1. Log in to the Erasmus MC network via My Erasmus MC workstation or via the proxyserver.
2. We have not purchased the e-book. All our e-books are in the online catalog. When we have access, you will see this:

If we should have access according to the catalog, you can send an e-mail to the Acquisition department (acquisitie.mbib@erasmusmc.nl) with the title of the e-book.
The e-book does not load in the browser. Especially books at EBSCOhost do not always load properly in Internet Explorer. In this case you can use another browser (Firefox, Chrome).
Why can't I access an online journal or article?

1. We do not have a subscription to the item. Via the Journal list you can check whether or not we have a subscription to a journal.
2. Are you accessing the item from another workplace or from home? Then log in via MijnWerkplek (Erasmus MC) or via EZproxy.
3. If, according to the Journal list, we should have access, then you can notify the Acquisition department: acquisitie.mbib@erasmusmc.nl.
PhD track and defense procedures
How many copies of my thesis do I have to submit?
The thesis must be submitted to the Beadle, as an electronic copy (for inclusion in the University Library) and in hard copy, at least 5 weeks before the scheduled date of the PhD defence, with all the required appendices (see overview above).
Depending on which faculty s/he is affiliated with, the PhD student must present the university with 30 to 34 copies of the thesis.
Erasmus MC PhD students:
Submit 7 copies to Beadle's Office
Submit 1 copy to each member of the examining board
Bring 10 copies to the ceremony
Submit 5 copies to the Erasmus MC supervisor's department
Woudestein faculties PhD students:
Submit 7 copies to Beadle's Office
Submit 1 copy to each member of the examining board
Bring 10 copies to the ceremony
Miscellaneous
How do I request an article/book that you do not have?