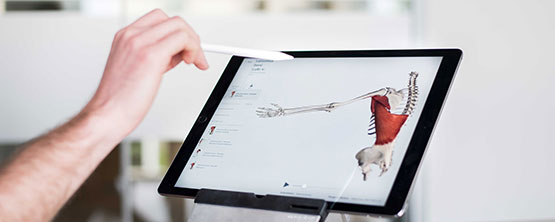 Complete Anatomy is an interactive 3D anatomy platform. It contains more than 6,200 anatomical structures that can be examined in 3D. Muscles move, fractures and swellings become visible and dissecting and exploration tools provide countless opportunities to get to know the human body for yourself. You can take notes, test knowledge, collaborate and share in the tool. It is also possible to examine the whole body or only selected parts in space via augmented reality.
Complete Anatomy is avaiblabe for Windows 10, macOS, iPhone, iPad and Android.
How to download the app?
Log in to the campus network. Make sure you have an internet connection via the EUR/Erasmus MC network.
Go to the Appstore for your device via this page.
Download the Complete Anatomy app for free.
Start Complete Anatomy. Go through all the steps of the registration. Unlocking the license is done via email verification. Therefore, register with your EUR or Erasmus MC e-mail address. (When verifying your email address, please note that mail may end up in your spam folder.)
The app is installed on your own device, so that offline use is also possible.